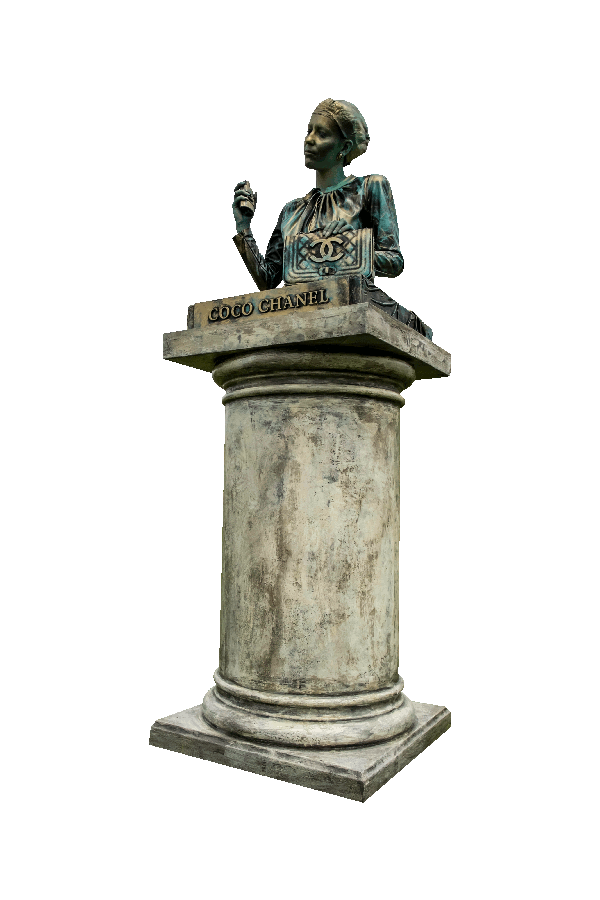 WORLD UNFORGETTABLE ICONS
Looking for something life like? One of a kind? Extraordinary? Brand new? Something with WOW factor, unique and unforgettable? Look no further, because we would like to introduce you a highly interactive exhibition of unusual living statues representing the world's unforgettable icons.
The audience can meet all of them at one place at the same time and get to know more about their lives and inventions that we are using on daily basis. This educational experience for people of all ages will leave the audience wondering if they are real or not.
The exhibition is something really different. The characters will enchant the people in disbelief with their hyper-realistic costumes and make-up, the audience might never know they aren't real statues until they make them laugh and move. All looking like a solid piece of stone, they stand stately, but if the visitors stray too close – they could become part of the entertainment.
All the costumes were created after careful examination of each character, inspired by the world known inventions & their inventors. They are the products of a nearly a years work and a perfectionist's love for detail. If you can't find a character or icon you need for your event, just let us know. We are able to produce fully customizable statues on request.
INTERACTIVE ELEMENT of the exhibition includes interactive statue & kids painting zone - interactive entertainment for little ones who can try to paint the bust in real (one extra additional white bust) or on paper.
Guests can pose with our human statues for photos or simply admire the elegance and beauty as they pass by. Every statue has its own sign with more written details about each character.
Book now a statuesque theatrical element for any kind of event suitable for festivals, celebrations, openings, shopping malls, promenades, museums, corporate events and many more.
SOMETHING ABOUT THE EXHIBITION
If you need a high quality extraordinary entertainment to promote any event, something wow and new, draw attention or entertain the crowds, look no further than the BIG NAMES. Any type of event can be enhanced with eye catching educational exhibition of living statues who can interact with the audience. Although the statues are static, the accessories are moving. The exhibition is very versatile, requiring minimum space, it can be a theatrical solution for small areas, hold a large crowd in bigger areas and add artistic kudos to empty areas.
QUICK FACTS

• big names - icons from all over the world and from different historic eras
• educational & interactive exhibition! • inspiring new generations
• something that will be remembered for a very long time
• amazing photo opportunity and talking point
• static (statues) & moving (accessories) at the same time
• full range of various characters
• made with hand painted details
• 2 variations - as living busts or living statues with pedestals
• possibility of fully customizable statue/bust on request
• extra addition - interactive living bust

WE USE PROFESSIONAL MAKE-UP FROM: